Opinions do not necessarily represent CUIndependent.com or any of its sponsors.
Donald Trump's twitter account went offline for 11 minutes on Nov. 3, leaving the internet in astonishment. Many people tweeted their relief that the president no longer had access to his Twitter.
To the Twitter employee who shut down @realDonaldTrump's account on their last day — thank you for Making America Great Again for 11 minutes

— Mike Levin (@MikeLevinCA) November 3, 2017
Most revealing were the people that talked about the safety of our nation in the 11 minutes that Trump couldn't heighten foreign tension and create chaos via social media.
Just gonna say it, the employee at Twitter who shut off Trump's account for 11 mins could become a candidate for the Nobel Peace Prize.

— David Jolly (@DavidJollyFL) November 3, 2017
President Trump has a history of playing games with the media, which is why the public was so happy to get a break from his Twitter storm. In October, President Trump astounded the media, and the public, by referring to a meeting with military commanders as "the calm before the storm."
For the next eight days, Donald Trump made no comment, leaving the public in the dark. On Oct. 18, he responded to the chaos, claiming that his comment merely referenced the possibility of negotiating with North Korea.
"If it's going to be something other than negotiation, believe me we are ready more so than we have ever been," Trump said.
This isn't the first time that Donald Trump has played games with the media. During a press briefing on Feb. 24, Trump banned specific outlets such as CNN, The New York Times and Buzzfeed from attending. His reasoning for the ban was that they were spreading fake news to the public.
These are the types of games our president likes to play. Donald Trump has a disdain for the media: he not only calls them liars, but also does not inform journalists about stories.
So much Fake News being put in dying magazines and newspapers. Only place worse may be @NBCNews, @CBSNews, @ABC and @CNN. Fiction writers!

— Donald J. Trump (@realDonaldTrump) October 17, 2017
Trump is known for accusing the media of fake news, using it as a response to anything he deems unflattering. Recently, he was accused of telling a fallen soldiers wife that her husband "knew what he was signing up for."
Donald Trump responded:
The Fake News is going crazy with wacky Congresswoman Wilson(D), who was SECRETLY on a very personal call, and gave a total lie on content!

— Donald J. Trump (@realDonaldTrump) October 20, 2017
Trump's war on the media led him to call for an opening up libel laws. Donald Trump wanted to change laws to allow people such as himself to sue outlets of the media. This would allow him to attack "fake news," even though the rights of journalists are protected by the first amendment.
"I'm going to open up our libel laws so when they write purposely negative and horrible and false articles, we can sue them and win lots of money," Mr. Trump said. "We're going to open up those libel laws."
By discrediting journalists, Trump has created a culture of distrust in the media. He has been able to sidestep allegations of collusion with Russia, of sexual harassment and of countless other transgressions, by simply claiming that anyone that opposes him is a liar.
People are just now starting to find out how dishonest and disgusting (FakeNews) @NBCNews is. Viewers beware. May be worse than even @CNN!

— Donald J. Trump (@realDonaldTrump) October 13, 2017
Using the media, President Trump has terrified the entire world. On Twitter, he teases world leaders.
This is NOT something a normal, stable Commander in Chief says, especially in the middle of a nuclear crisis with North Korea. #NOTNORMAL https://t.co/0RC62Gokte

— VoteVets (@votevets) October 6, 2017
Extremely disturbing how the president teases war like it's a fun thing for us all to do. https://t.co/ylS6NDYMlZ

— Cody Johnston (@drmistercody) October 6, 2017
This is beyond irresponsible. Trump's triggering widespread panic — and he seems perfectly okay with it. This alone = impeach. https://t.co/zRpRxFZoEu

— Bob Cesca (@bobcesca_go) October 6, 2017
Kim Jong Un released a statement on Sept. 22, "advis[ing] Trump to exercise prudence in selecting words and to be considerate of whom he speaks to when making a speech in front of the world."
In addition to striking fear domestically, the behavior of the president of the United States has created a sense of unease in people abroad who are unsure of what could result from Donald Trump's behavior.
According to a Pew Research Center study, the number of people from around the world that have no confidence in the U.S. president has risen to 74 percent. The number of people who view the U.S. as unfavorable as a whole has risen to 39 percent.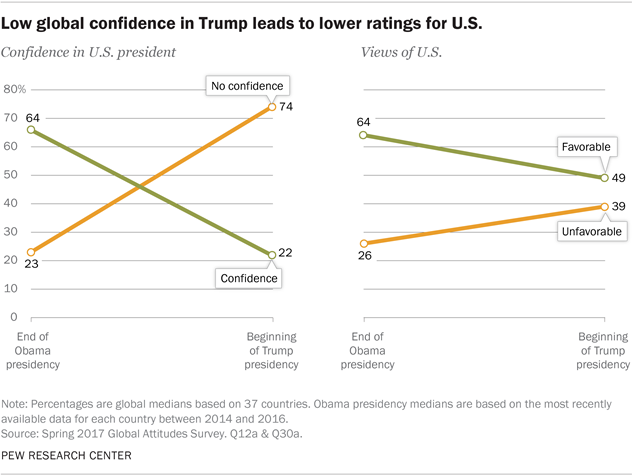 Foreign leaders are nervous about the tension building between Trump and Kim Jong Un. New Zealand prime minister Bill English called President Trump's comments about North Korea "not helpful" in an environment that is "very tense."
Olli Rehn, the Finnish minister of economic affairs, also commented about foreign relations with America.
"In Europe, we are concerned about the U.S. possibly turning toward a more isolationist orientation. That would not be good for United States, good for Europe, good for the world. We need the U.S. engaged in global affairs in a constructive, positive way," said Rehn.
Journalism has shaped our country since its inception. Knowledge and information are foundational building blocks of our nation. That is why speech is so heavily protected by the first amendment. In order to be a truly free nation, we need a free exchange of ideas between our government and the people.
Journalists exist to give the public information so they can make informed decisions about the state of our government, among other things. Donald Trump is inhibiting this process. By playing these games with the media, he sparks a fear of the unknown in the American public.
At a time when our nation is in constant fear of war with North Korea, the public needs to be reassured in the decision of our leaders. We must be certain the message we are sending to people, domestically and abroad, is one of strength and stability.
Contact CU Independent Staff Writer Emma Shanahan at emsh1064@colorado.edu